Accountability (RACI) vs Decision making (RAPID); Waterfall vs Agile?
Jan 06, 2020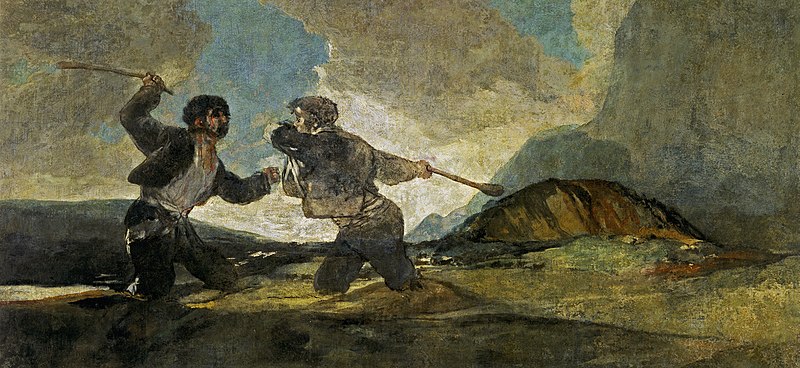 Francisco Goya, Fight with Cudgels (Spanish: _Duelo a garrotazos_), c. 1820–1823
tl;dr
RACI and RAPID are frameworks to describe the key roles for deliverables in a project or business process. [1]
The key role in RACI is Accountable person . Who has the 'A'?
The key role in RAPID is the Decision maker. Who has the 'D'? [3]
RACI is well known and loved by the PMO, consulting companies and auditors
RAPID is not that well known and more aligned with agile practices
Top down / silo organisations prefer RACI. Cross functional teams prefer RAPID
RACI
Roles
Responsible - do the work
Accountable - mandatory role. Single person
Consulted - two-way communication required
Informed - one-way communication ok. Typically after key milestones
Pros (+)
Well known and used thoughout companies
Easier to get going as you assign the 'A' person and leave it to them to make it work
Prefered by 3rd party implementation companies (eg. consulting companies) as it has one go-to person to deal with (the 'A' role)
Cons (-)
Everything is dependant on 'A' role
Not a strong focus on teamwork
Sometimes confusion between Consult / Inform roles and Responsible / Accountable roles
RAPID
Roles
Recommend - propose a coursse of action
Agree - or peer review
Perform - do the work, similar to 'R' in RACI
Input - provide input. Might be used or not. Similer to 'C' in RACI
Decide - single person only.
Typical lifecycle / steps
Get Input -> Agree & Recommend the solution -> Decide -> Perform (Do) 

Pros (+)
Force a recommendation and a decision, which is typically the blocker
Clear role allocation to manage the activities from start to end (full lifecycle)
Favoured by teams that want to get sh!t done
Cons (-)
Might lead to shortcuts and not well thought through options
Not easy to implement as everything is not just link to one person
Trademark is limiting the use due to legal concerns
References
[1] Responsibility Matrix
https://en.wikipedia.org/wiki/Responsibility_assignment_matrix
Retrieved: 1/6/2020
[2] RAPID®: Bain's tool to clarify decision accountability.
https://www.bain.com/insights/rapid-tool-to-clarify-decision-accountability/
Retrieved: 1/6/2020
[3] Who Has the D?: How Clear Decision Roles Enhance Organizational Performance
https://hbr.org/2006/01/who-has-the-d-how-clear-decision-roles-enhance-organizational-performance
Retrieved: 1/6/2020
Related Posts
Solving the Jane Street puzzle of December 2022
Why I created Scrumdog - a program to download Jira Issues to a local database
Jane Street puzzle Feb 2021 SOLVED! OCaml to the rescue
Solving the Jane Street puzzle of Dec 2020 - Backtracking with OCaml
Automate your Jira reporting with Python and Excel
Solving the Jane Street Puzzle of June 2020; Circle Time