Most common Git commands
Jan 01, 2020
Basic commands
Copy (clone) your repository ('repo') from remote (e.g. GitHub) to local pc.
Add changes to staging area (Index), commit to local and push to remote.
git add .
git commit -m "notes"
git push 

Get updates from remote (pull) and restore local tree
Other
git clean -i 
git reset
git branch
git log
git status
git config --global user.name "Your name" 
git config --global user.email your@email.com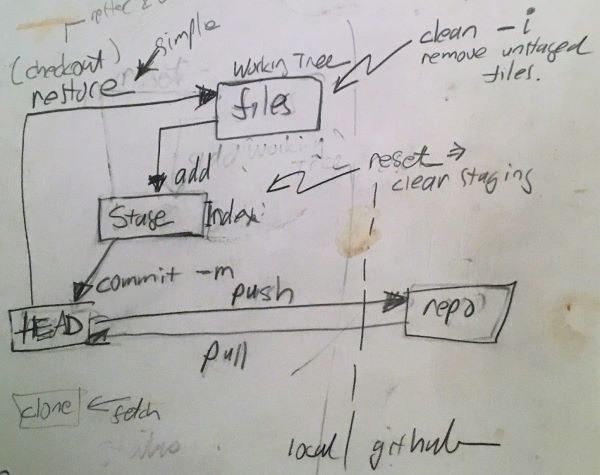 GitHub: Managing SSH keys
On Windows. When using git with GitHub – you can set up your SSH keys to avoid typing in your GitHub username/password when working on your own repos:
Create a SSH key on your local PC. Type ssh-keygen in cmd line. Then get key here more C:\Users\%username%\.ssh\id_rsa.pub.
Add your SSH key to your GitHub account. Profile -> Settings -> SSH keys.
To see if it all work, try this after adding key ssh -vT git@github.com
GitHub: Personal Access token
Support for password authentication was removed. Please use a personal access token instead.
https://github.blog/2020-12-15-token-authentication-requirements-for-git-operations/
https://stackoverflow.com/questions/68775869/
https://newbedev.com/where-to-store-the-personal-access-token-from-github
References
[1] Pro Git
The entire Pro Git book, written by Scott Chacon and Ben Straub is available online
https://git-scm.com/book/en/v2 - Accessed 2020-03-11
Related Posts
Jane Street puzzle Feb 2021 SOLVED! OCaml to the rescue
Solving the Jane Street puzzle of Dec 2020 - Backtracking with OCaml
Automate your Jira reporting with Python and Excel
Solving the Jane Street Puzzle of June 2020; Circle Time
Solving the Jane Street Puzzle of May 2020; Expelled with OCaml
Never forget a birthday again with GitHub Actions and Python